Namur, the Kingdom of tourism
The city of Namur, sometimes called "Nameur" in Walloon or "Namur the beautiful" is a tourist jewel that has grown, from the Aduatuques through the Romans to the present days, overlooking the junction between the Meuse and the Sambre. A jewel of history, set at the confluence of rivers as well as contrasts. Its rich city center heritage : old mansions,  cathedral, museums, churches, theater, belfry, and various places and remains … testifies to the contrasted past of a bourgeois city located in the shadow of its Citadel. The latter is recognized as exceptional heritage of the Walloon Region and recalls several centuries of military architecture and strategic lust. Napoleon had indeed renamed it "The mound of Europe".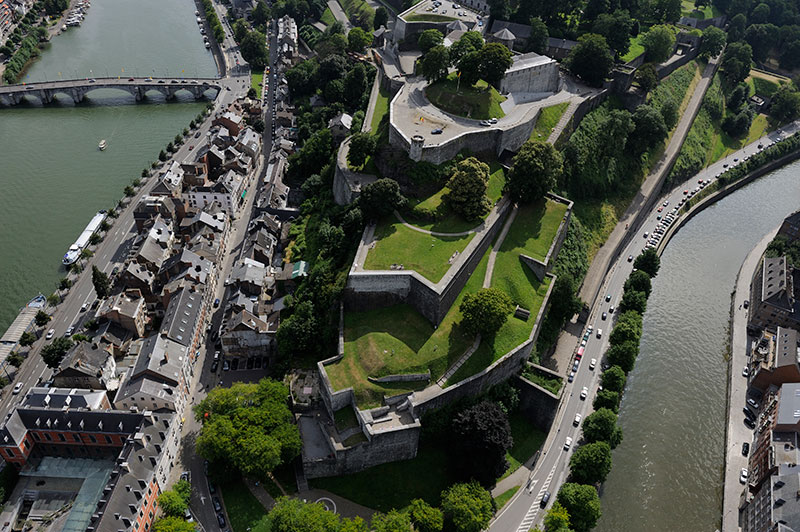 Artists and conquerors have stayed there. All of them did not like it but each and every one of them used his words or his art to immortalize his passage in the city, giving Namur its nobility in history. The visitor will find in Namur many satisfying activities offered throughout the year. Maybe will he prefer the simple stroll in the old city, along the quays,… or maybe will he go for the many visits offered by the immediate surroundings, which are full of destinations to pin. The natural charms of the Namurois are spiced up with a widespread good humor, a high flight gastronomy and a patrimonial heritage with a character of its own, alternating Ardennes villages and cities of art and history.
A land of traditions, myths and legends, the province of Namur offers a very rich tourist programme orchestrated by the Tourist Federation of the province. This is the land of the RAVeL (Autonomous Network of Slow Paths) – a network of itineraries reserved for pedestrians and cyclists, a region of rock climbing, of potholers' journeys through the bowels of the earth, where visitors can explore caves and caverns, and of river cruises between France and Germany, all underpinned by true professionals.